The Italian boat builder Gagliotta by Tor di Mare moors in the Netherlands. Amsterdam has recently become the new location for all European sales and after sales of the stylish Gagliotta Lobster boats.
FJORD Benelux is the designated party to start with this new company from Amsterdam will develop all of Gagliotta's commercial activities for Europe. In addition to the location in Naples, the Gagliotta brand will gain an even stronger foundation with this commercial European headquarters by the name of GAGLIOTTA EUROPE. The management of FJORD Benelux, consisting of Jiddo Visser and Matthijs Kat, will further expand the Gagliotta brand in Europe from Amsterdam.
Gagliotta, founded in 1952, is known for the Fisherman and Lobster models. The boats, entirely produced in Italy, are praised for their excellent quality. Gagliotta's contemporary models all continue the Italian tradition of nautical craftsmanship.
"With the choice to establish Gagliotta in Amsterdam, there are now two locations to visit to introduce the enthusiast to this beautiful brand. We are also happy to take the customer to the yard in Italy, located on the beautiful Amalfi Coast." According to Matthijs Kat.
Italian finesse
The well-known aesthetic shapes are crafted with utmost perfection down to the smallest detail. The Italian finesse in combination with the excellent sailing characteristics are a guarantee for a lot of attention on the water.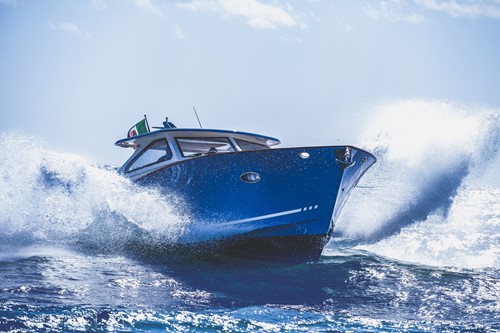 This also applies to the LOBSTER 35. This luxurious, sporty boat is now especially popular in Italy. The boat, of 12 meters, offers space for eight people. The LOBSTER 35 is fully equipped and equipped with the best equipment in the cockpit. Due to the fixed roof with windows and windscreen wipers, there is optimal protection in changeable weather. A perfect asset to European waters. Later this year, Gagliotta Europe will introduce the larger LOBSTER 52.